Wolverhampton Literature Festival
WCR FM, Wolverhampton's local radio station, is hosting three days of events during the Wolverhampton Literature Festival, all based in the Mander Centre Community Hub. It's all free and you're welcome to come along. Each day, we'll be broadcasting live from the Hub.
Read in the Friday 3rd edition of Express and Star about the first day of the festival and WCR's involvement.
Day 1: Friday 3 February
Venue: Mander Centre Community Hub
Age range: Adults
Price: Free
Brendan Hawthorne -  9am - 10am
Poet, playwright, singer-songwriter, author and comic compère, Brendan Hawthorne is a born and bred Black Countryman. He is widely published, has held several writing residencies, and has delivered many bespoke commissions throughout his career. He was one of Anthony Gormley's 'Fourth Plinthers' where he performed his work in Trafalgar Square, London, atop the empty the plinth. Brendan was made Wednesbury Poet Laureate in 2014 and held the 'Bill o Bowes' national award for best written dialect two years running. His latest collection of poetry, Seventies Child and Other Fashion Trends,  is available via Dream Well Writing Ltd (a dyslexia friendly publication) or Brendan's website.
Jane James - 10am - 10.30am
Jane James has performed at many events, slams and festivals. She has had work published in a pamphlet and several anthologies and is horrified when asked for biographical information. "Born in Staffordshire. Lives in Wolverhampton. Bit old. Quite daft."
Gerard Kells - 10.30am - 11am
Gerald Kells is poet and author. He reads at poetry events around Walsall and the West Midlands but during the pandemic his universe widened out as he brought his eclectic mix of humorous, political and personal poetry to Zoom readings across the country. He has now developed his own YouTube and Soundcloud channels. Recent publications have included 51 Poems, a collection of sonnets and other poetic works, an on-line novel: The Net Mender's Son, and several short stories. He has won poetry slams, including Café Grande in Dudley, Oooh Beehive in Swindon and the Shrewsbury Literary Festival online, and has headlined events such as Blot from the Blue and Voices in the Fountain. When he's not writing, Gerard likes to walk, read, and, when he gets the chance, dance. He's a long-standing campaigner for countryside protection.
Laura Liptrot - 11am - 11.30am 
Laura Presents is an explosion of work inspired by my journey through the minefield of an acting career, nature, human magic, affection, the music and words of Patti Smith, and the political trips that have brought us almost to breaking point, many times - just in this decade alone! Here I invite you into the busy attic of my life and mind (where some days are full of sunshine, others full of grey clouds, though most are lit by a silvery, Tarot card moon) to explore through the boxes full of colour and the tangle of riddles and ribbons. This is an ordinary woman (who turns 30 this year) presenting to you her opinions, her emotions, and just basically herself.
Phil Buckley - 11.30am - 12pm
Phil Buckley was a social worker, trainer, and lecturer for twenty-nine years, who first began writing poetry when he was in the British Army in the 1970's. He describes his earlier, unpublished poetry as a form of 'cathartic bibliography', which helped him through a time in his life which he describes as 'not without its stresses'. He has since worked with various local authorities and voluntary organisations as a qualified social worker in residential care with challenging children, and later in child protection investigation. Since retiring, Phil has written numerous poems, and has had a number published in various anthologies. Most of these involve the challenges facing communities, due to such things as austerity, Covid and climate change.
LIVE BROADCAST: Jason Forrest with Wolverhampton Today 12pm - 3pm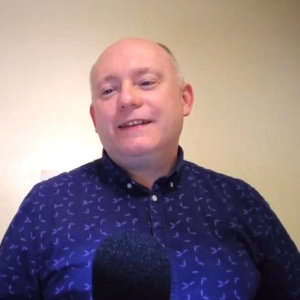 Jason Forrest started working in radio as co-host on Beacon Radio's Kid's Stuff back in 1987, at the age of 15. He has produced and presented shows on 1575 Radio Wolves, 107.7 The Wolf and BBC WM, as well as driving the Network Chart and sport at BRMB. Jason has hosted events and performed as a DJ at venues across the city, including Miss Moneypenny's. He has had residences at bars and clubs, including a stint at Heroes back in the 90's! Jason was also match-day announcer at Molineux for 25 years, stepping down in 2018. He currently presents Wolverhampton Today 12-3pm weekdays on WCR FM. His podcast, The Milk Bar, has been available online as an audio download since 2009 and goes out in various formats, with a video version on Facebook. In the past, Jason has also run features on local TV. Actively involved in promoting the Wolverhampton Literature Festival since its inception, on both radio and his weekly podcast, Jason has fronted several events at Lit Fest, over recent years.
Kates Hill Press Authors - 3pm - 4pm
The Kates Hill Press new authors read their work. Ian Henery, Rob Simmons, Billy Spakemon, Eileen Ward & Joanne Webster.
Susan Vickers - 4pm – 4.30pm
Susan Vickers is a broadcaster, model, entrepreneur and community champion supporting many local festivals, charities and events. She presents the Morning Show on WCR FM Monday-Thursday, and specialist music shows. She uses her platform to discuss, and raise awareness of, the issues many of us struggle through daily. Her book has been over 30 years in the making. With the cultural revolution over the past few years, Susan has finally been able to feel the world is a safer place to talk about her struggles with identity. Susan uses her experiences to help others by speaking out, highlighting social injustices and supporting various charities and causes.
Cherry Morrison - 4.30pm - 5pm
Cherry Morrison was born and spent her younger days in Handsworth. She loved music and the arts. Cherry decided to rebel against the system to become the first qualified female painter and decorator in 1997. Since surviving a serious assault in 2012, Cherry now refuses to stay quiet and speaks out about Domestic Abuse. She studied at Cambridge, as part of the IPeace restorative justice project. Cherry recently finished working at a Birmingham school to pursue her decorating and music career. She feels that the creative arts aspect of her life provides therapy for her to cope with CPTSD. Cherry has her hands in many pies. She sings, writes songs, poetry and spoken word pieces, co manages a band and is working on some large projects: including writing several books. Cherry believes providing an insight into "what happened behind her closed doors and why she stayed" will help people understand forms of domestic abuse, recognise some red flags, and leave before things really hit the wall.
Wendy Willis - 5pm – 5.30pm
Wednesbury-based children's author Wendy Willis will be appearing at The Wolverhampton Literature Festival 2023. She will be reading extracts from, and doing personalised signings of, her children's book: The Porter Family. This is the first collaboration between the author and superbly talented local illustrator Charlotte Smith. The Porter Family is Wendy's first children's book – realising a lifetime dream of publishing the story she used to make up for her son at bedtime. Wendy has worked in funeral care all her life and is a union rep for USDAW. She is also a volunteer with a local dementia support group in Wolverhampton and has recently started two new hobbies: archery and pottery.
Voices of Recovery - 5.30pm – 6pm
Voices of Recovery will be a volunteer and service user led project, working alongside Ian Henery and the Service User's Involvement Team (SUIT), to provide a spoken word installation on Friday 3rd February, during the Wolverhampton Literature Festival. Using a model of creative arts-based mutual aid at the Recovery Hub, Thornhurst, participants will find inspiration from music, lyrics, spoken word, and poetry, to produce creative writing that focuses on their experiences of addiction, and is designed to offer structured support to people faced with the challenge of substance abuse.
The therapeutic properties of creative writing have a significant relationship with health and wellbeing, and when used alongside other pathways to recovery and rehabilitation are shown to regulate internal and emotional states. Service users and volunteers will share their experiences of creative writing as a tool for relapse prevention, mutual support, social-connectedness, and self-confidence. An important aspect of this work will be to leave a legacy of creative inspiration for service users and show how the arts can be a starting point for focus and achievement.
Claire Tedstone - 6pm – 6.30pm
Claire is a creative soul - using her lived experience to tell stories blending the themes of nature, art, psychology, spirituality and mental illness. Her kinetic poetry performances will take you on a journey through a landscape laced with metaphor, where she learns to find beauty in the darkness. Claire is from Saturday Books & Gallery.
Shaun Hand - 6.30pm – 7pm
Shaun Hand is an author and musician from Birmingham who dislikes writing his own biographies. He is best known in Wolverhampton for working in various local pubs. His debut novel, The Sadness of The King George (Bad Press Ink, 2021) is a grim, sweary comedy set in a fading Sutton Coldfield pub. His other books are Pop Art Poems: The Music of The Jam (self-published, 2016), which has sold well over 1,000 copies, and a poetry collection entitled The New Brutalism (Kate's Hill Press, 2021), which hasn't. He makes woozy psychedelic music (no, really) under the name Birmingham Music Library and has genuinely nearly finished his second novel.
Day 2: Saturday 4 February
Venue: Mander Centre Community Hub
Age range: Adults
Price: Free
Laura Jane Round - 9am – 9.15am
Laura Jane Round is a writer and performance poet from the Black Country. An alumnus of Liverpool John Moores University, they have been published many times; in places such as Lumpen Journal, The Beyond Queer Words Poetry Anthology and Take Care. Their second poetry pamphlet, TEATH, was published in 2022, by Alien Buddha Press. Round is bisexual.
Peter D Hehir - 9.15am - 9.30am
Peter is an award-winning published poet and author with 5 poetry collections to his name. Although he has been writing for the past 25 years his major breakthrough came in 2020 with his profound and heartfelt poem "The World is Closed" went viral around the world. This beautiful piece of poetry captured the hearts and minds of people on every continent.
Steven C. Davis -  9.30am – 10am
Steven C. Davis is the author of The Bookshop between the Worlds alternate-Earth novels, The Lore of the Sælvatici, part of a folk-horror reworking of the Robin Hood mythos; Less than Human, a non-paranormal paranormal romance serial, and co-author, with S. J. Stewart, of The Heart's Cog series of NSFW action-adventure novels. They are also the creative director of Tenebrous Texts, a dark and alternative-flavoured publishing house, based in Bilston.
LIVE BROADCAST: WCR FM`s Tim Beech 10am - 1pm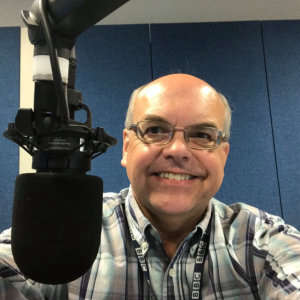 Tim Beech is an experienced broadcast and communications executive with more than 30 years' experience in the industry. Born in Bloxwich, in 1964, Tim was educated at Queen Mary's Grammar School and Magdalen College, Oxford, where he graduated as an Exhibitioner with a First-Class Degree in Modern History. He is now one of the Directors at WCR FM in Wolverhampton, presenting occasional shows and supporting other volunteers on their broadcasting journey.
Read the recent Express and Star article about Tim's show.
Jon Hartless - 1pm – 1.30pm
Jon Hartless was born in the 1970s and has spent much of his life in the Midlands and Worcestershire. His latest series, a steampunk motor racing adventure examining the gulf between the rich and the poor, started with Full Throttle in August 2017, continued with Rise of the Petrol Queen in 2019 and Fall of the Petrol Queen in 2020, and developed further with The Death of Poppy Orpington in 2021.
Antony Nick Britt - 1.30pm – 2pm
Antony N. Britt writes page-turning tales which slap you in the face when you least expect it. He has published two novels (Dead Girl Stalking and Finding Jessica), a book of Ghost Stories, as well as the odd bit of poetry. He also has many more stories featured in various publications. He writes music and theatre reviews, and as well as performing on stage, and has written and directed two pantomimes (Oh yes, he did). He lives in a house full of books, CDs and various bits of unread paper, which may contain the secret to eternal life but are most likely pizza menus.
Leslie Scase -  2pm – 2.30pm
Leslie Scase is a former civil servant, born and educated in South Wales but living now in Shropshire. He is a member of the Crime Cymru Writers' Collective, and the Crime Writers' Association. He has given talks on crime and punishment in the late-Victorian period, appeared at literary festivals across the UK, and has been interviewed on radio. His current project is the Inspector Chard series, which will run to seven volumes.
Memorhyme with Dreadlockalien and Kurly - 2.30pm – 3.30pm
Memorhyme is a Midlands-based arts collective consisting of spoken word poets, teachers, musicians, animators and workshop facilitators. Steeped in a rich heritage of performance poetry and live literature, Memorhyme are proud to offer a new live experience of the spoken word. Starting with audience open mic, and moving onto our featured Memorhyme artists, this event offers a fabulous way to be engaged and entertained with words
Professor A. R. Gatrad OBE, Founder of WASUP -  3.30pm – 4pm
The Story of Three Plastic Bottles is a brilliantly written book by consultant paediatrician, Professor Gatrad OBE, ably aided by children's author Suzanne Kalloghlian. Behind its beautifully illustrated glossy front cover hides a riveting tale, revealing what happens when people throw away plastic items thoughtlessly. This book inspires readers to look after our planet, and question if they have ever carelessly thrown away plastic items which are harming marine animals and poisoning humans?
Professor A. R. Gatrad OBE DL, Paul Ingles & Jade Smedley-Baugh - 4pm – 5pm
Join us for the world premiere of The Plastic Migrant: a new play that follows Manjolo and his wife Raksana on a perilous journey, across the seas and the world, and through their own dangerous man-made landscape. Infertility, economic disaster and blatant disregard plague their lands, but not everyone chooses to see. Manjolo sees. Plastic is a harmful and plentiful pollutant that destroys and poisons natural habitats and ecosystems. Difficult to break down and impossible to eradicate, plastics continue to plague our earth and cause widespread, irreversible damage.
Poets Against Racism -  5pm – 6pm
Poets Against Racism with Manjit Sahota, Robert Punton, Ian Henery, Maurice Malcolm and Riley Daley.
Jason N. Smith - 6pm – 6.30pm
Jason N. Smith is an award-winning writer and spoken word artist, and has performed at Roundhouse, Royal Festival Hall, Tate Modern, The National Theatre, The St. Ethelburga's Centre for Reconciliation and Peace, and various festivals and events nationally. He has also been involved in BBC Listener Project, National Prison Radio at BBC Broadcasting House, and recently opened the HMPNPS National Care Experienced Peoples Conference at Leicester Racecourse.
Adrian Middleton - 6.30pm - 7pm
The son of a police officer, he has been a father, journalist, bouncer, civil servant, policy adviser, publisher, freelance consultant and a business district manager. Throughout all of these identities he has been a writer of weird and speculative fiction. His first short story collection, "Scars", is published in January 2023.
Day 3: Sunday 5 February
Venue: Mander Centre Community Hub
Age range: Adults
Price: Free
Mickey Angel -  9am – 9.30am
Mickey Angel has been writing poetry since June 2016, beginning with what started originally as a farewell to an old friend heading back home. Since then, they have done many things: from being published within their first year, thanks to Beatfreeks, to hosting their own open mic show on Instagram during the pandemic year of 2020; as well as having their own poetry podcast on Spotify and even coming out as Non-Binary during the Commonwealth Games of 2022, when they performed on the Victoria Square stage during the celebrations. You can find them on Facebook, Instagram @thehiddenangel001 and on Spotify, where they do their Poetry Podcast, Angelic Sitdown, in which they interview their many guests from across the UK, and even a few guests from the States and beyond.
Gary Longdon - 9.30am – 10am
Gary is a past Staffordshire Poet Laureate, theatre reviewer, and creator of the Poetry Alight event in Lichfield, which has been running for over a decade and has featured some of the UK's leading and emerging poetic talent. As Staffordshire Poet Laureate, he performed a poem about the racecourse on Midlands Grand National day in front of 25,000 racegoers and millions more on Channel 4 television, broadcast live, as poet in residence. He also had his epic poem on the Staffordshire Hoard performed at the New Vic theatre at Newcastle under Lyme.
Gary Carr - 10am – 10.30am
Gary Carr is a writer and poet from Burton-on-Trent. He runs a writers' group and events for writers. His first full collection, In a Town, was published by Dream Well Writing Ltd in November 2021, he is currently working on a second.
Andy Summers - 10.30am – 11am
I'm an occasional improper poet from Walsall. I've been playing with words for most of my life and I surface from time to time at poetry events and festivals across the West Midlands, Warwickshire and Staffordshire. As a believer in entertaining and informed dissent, I am ready to raise a healthy political rant or two in these bizarre and unsettling times; usually in what I characterise as a 'rambling narrative' style, sharing my words with anyone willing to stop and listen. So far, I have conspicuously failed to organise my poetry into a published collection but, as with all my good intentions over many years, I have added that to my to-do list. Why change the habits of a lifetime? I'm looking forward to contributing to the Wolverhampton Literature Festival, when I hope to hear, enjoy and learn from some proper poets doing proper poetry properly.
Lisa Johnston - 11am – 11.30am
Lisa Johnston is a Staffordshire poet who enjoys taking part in spoken word events, and is published in anthologies from Black Pear Press, Dream Well Writing Ltd and Cape Farewell. She recently started writing flash fiction, as part of Worcestershire Literary Festival, and has been included in their 2021 and 2022 anthologies. She has also taken part in the Staffordshire Literary Festival 2022 and Walsall Festival of Words 2022. Lisa takes inspiration from the natural world and is often found tramping the bridle paths. Her first collection of poems, Heart Lines and Life Lines, published by Dream Well Writing Ltd, features photographs taken by Lisa that compliment her poetry.
Dale Parnell - 11.15am - 11.30am
Dale has been writing for 30 years but his first first collection, "The Green Cathedral", was not published until 2017. This collection of contemporary fantasy stories was followed by 2018`s "Bramble and Other Stories" which is a collection of horror and science fiction. Since then Dale has featured in over 40 fiction and poetry anthologies from some of the best independent publishers around the world. In 2022 Dale released his 3rd collection, "Foundations", featuring a variety of short stories that have been featured in previously published anthologies along with a brand new, exclusive tale.
Dawn Jutton - 11.30am – 12pm
Dawn Jutton is the current Staffordshire Poet Laureate. Her emergence as a poet is no surprise, as words have filtered through her visual arts practice for many years: where the influence of the varied and rich landscapes of the Midlands shines through in both her writing and images. Dawn also digs deep into her memories of growing up as a forces' child, and the challenges of coming out later in life, in her more auto-biographical poems.
LIVE BROADCAST: Chris Allen In Conversation 12pm - 2pm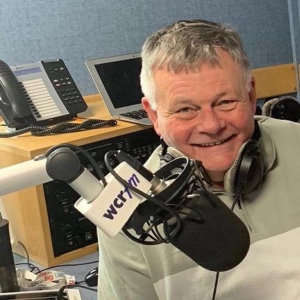 Chris has been a director at WCRFM since 2019, and the chair since early 2022. He is also the community editor at the station and takes the lead on engaging with community matters via the statutory and voluntary sectors. All his work (as that of his fellow directors) is voluntary or pro bono. He has been a broadcaster since the eighties, first appearing with regular programmes on BRMB Radio in Birmingham. He has run his own neighbourhood regeneration consultancy for over 20 years and has been an accredited adviser to central and local government. His current work is focussed on community led initiatives, via the national Big Local programme. He also presents the Community Power Podcast on behalf of the Local Trust, which administers the Big Local programme. His background, as a Church of England priest, also gives him insight into faith communities and he regularly features people from the diverse faith communities within Wolverhampton, working closely with the Interfaith Forum. He is also a Fellow of the Royal Society of Arts, Manufactures and Commerce.
Mel Wardle-Woodend & Jonathon Watkiss - 2pm - 3pm
Poetry with WORD Stafford and Aston Society of Poetry with a publishing talk from Dream Well Writing Ltd.
Mel Wardle Woodend is a first year PhD student studying Applied Linguistics at Aston University and was Staffordshire Poet Laureate 2019-2022. Mel holds an MA in Creative Writing, is co-organiser of WORD Stafford and founder of Aston Society of Poetry. Mel is the director of dyslexia friendly publishing company Dream Well Writing Ltd: reflecting her passion for making reading and books accessible and enjoyable to as many people as possible. Her published poetry collections include Natural Colours (2017), Just a Thought (2019), short story Tabitha (2021), poetry anthologies One Hundred Memories (2019) in support of Alzheimer's Society, Poetic Vision (2020) for Guide Dogs UK, Purrfect Poems (2021) for Cats Protection and a trio of anthologies on behalf of green arts charity There Is No Planet B Stafford. She has also written for children.
Blind Johnny Smoke is a founder member of UK electro punk act Flesh Eating Foundation, half of spoken word power electronics duo The Mannequin Factory, gong soundscapers Men With Mallets and weird electronica act Sideblinder. He also creates regular improvised soundscapes and chips in with the Murmurists collective when he can. Additionally, he is a deaf/blind filmmaker/photographer and sound tracker. He runs regular poetry events as WORD Stafford with Mel Wardle Woodend and is a keen supporter of all grass roots art forms.
Daniel Kay - 3pm – 3.30pm
Daniel is a vegan author and music producer who has cerebral palsy. He is also a cannabis activist and equality activist. He has always been interested in social justice and equality and believes everyone should have the opportunity to live their best life possible. He believes in the power of music to heal and connect people, and he is committed to using his platform to promote social justice and equality. His website is https://www.dk4poetry.com/ and his social media and YouTube channel is DK4 Poetry.
Ian Davies - 3.30pm – 4pm
Ian is a Walsall artist, photographer, poet and singer songwriter. He has self-published several books of poetry and can be found attending the occasional poetry or acoustic open mic event. Ian also runs an open mic poetry event called Voices from The Fountain.
Marianne Burgess - 4pm – 4.30pm
Marianne Burgess is from Stourbridge and has written poetry since she was a child. Her ambition was to release a book for her 50th Birthday - the result was Amateur Grammatics, followed by The Intolerant Cow the following year. She writes about topical subjects but like her heroine, Pam Ayres, she likes to write about the funny side of life. Marianne took part in the Black Country Broadsheet in 2018 and has performed at several festivals since. She is relatively new to the spoken word scene.
Leanne Cooper - 4.30pm – 5pm
Leanne Cooper is a poet, and author from the West Midlands who, since her debut in 2017, has gone on to perform across the Midlands and Stafford; including the Wolverhampton Literary Festival, as part of Poets Against Racism. Leanne has been published both online and in print for various anthologies, as well as releasing three poetry collections of her own, with 50% of the profits from the most recent - Dark Days; Long Nights - going to mental health charity, Mind.
Anthony J. Ball - 5pm – 5.30pm
Anthony J. Ball is a new poet, writer and author from the West Midlands. Asleep at 3 AM, his first book, was released in 2020. He was the winner of the T.B.M Christmas Terror competition 2019 and has since been included in multiple poetry projects and published in several anthologies. He is soon to release his second book, a collection of short stories and poetry, which is yet to be titled.
Lisa Millard -  5.30pm – 6pm
Lisa Millard is a poet and writer from Leicestershire and together with her family runs a small animal sanctuary called Duckingham Palace. She began her poetry journey in March 2020 and has since been a finalist in WORD Stafford's slam final, earning herself second place. More recently, Lisa's poem 'Black Swan' won first place in the first ever Stafford LitFest Poetry Competition. She has also had poems published by The Wildlife Trust, Voices for The Silent and has featured in numerous anthologies published by Dream Well Writing Ltd.
Communities Against Racism Enterprise -  6pm – 7pm
Communities Against Racism Enterprise with Ruthlyn South, Maurice Malcolm, Ian Henery, Norma Dockery, Shawna Nadine Beecher, Esther-Anna Douglas, Alphina Ndlovu and Riley Daley.
---
This page expires 31st March 2023.