Steven Beech home page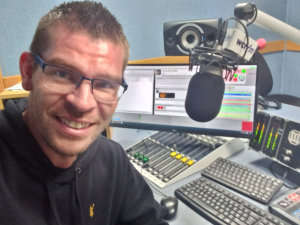 Hey! I'm Steven Beech!
Join me every weekday afternoon on 'Steven Beech @ Drive' from 16:00-19:00! (aside from Friday, when the boss allows me to finish an hour early!)
Music has been a massive part of my life from my school days - my school friends knew music would play a major part in my career, once I had finished education.
I also love sport. I'm a big West Bromwich Albion supporter (yes, I know, ssshhhh!....), I love Formula 1, Cricket, and I'm quite handy with a Snooker cue, too.
My dream job, as a radio broadcaster has taken me from Staffordshire, to Dorset, to Cornwall, South Wales, then up north to Teesside and Cumbria....and I'm 37 next year! – it's been quite a journey!
But there's nothing like being on air every day at "home". I was born and bred a Wolverhampton lad and I love everything about "OUR" City.....
Enjoy the show, and I look forward to having you listening on FM (101.8), online at wcrfm.com, you can yell at your smartspeaker "Play WCR FM", as well as now being on DAB Digital Radio across the City.